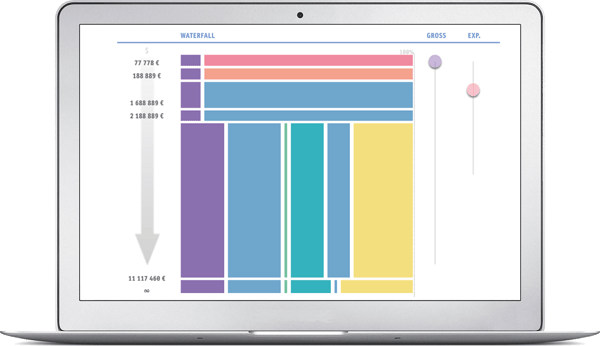 EXCELLENCE IN RIGHTS MANAGEMENT FOR ENTERTAINMENT PROFESSIONALS
Centralize your project data in one built-in system

Track and report your revenues

Optimize your team workflow

Enhance distribution and increase your ROI
SMART DATABASE
MovieChainer centralizes your data in a smart and interactive way, based on three main types of objects: your titles, your contracts and your contacts. Our biggest innovation is to make complex deals simple, with a single form to fill in all your contracts. Navigate through your database thanks to advanced search tools. aaaaa
RIGHTS MANAGEMENT
MovieChainer helps you get the best of your IPs. Our multi-entry availability lists manager combined with our dynamic calendar will optimize your rights management processes. Thanks to our custom alert system and industry-specific CRM, you will never let your library rest nor miss a sale opportunity, and will avoid conflicts of rights !
WATERFALL & DEAL MODELING
MovieChainer maintains dynamic charts and visual representation of the full allocation of revenues - the Waterfall - for all your IPs. The same algorithm enables you to simulate the allocation of projected revenues and helps you model complex deals with varied data: a quite powerful tool when it comes to making decisions.
WORKFLOW MANAGEMENT
Streamline your teams processes. Customize workflows, control access rights and maintain critical information within your group. Get your teams to interact and report through a collaborative interface. Centralize and enhance your commercial process thanks to MovieChainer sales-focused tools.
INVOICING & ACCOUNTING SOFTWARE SYNC
Invoice directly from MovieChainer, integrate your receivables, costs and payments by synching your accountancy software to MovieChainer - and save time and human error. And then... enjoy advanced financial planning tools synched with your contractual database.
ROYALTY MANAGEMENT
Save hundreds of hours and as much headache by publishing your royalty statements from MovieChainer. Rely on your contractual and financial data to track and control incoming royalty and generate outgoing statements. Even better: define your own rules and get MovieChainer's Statement Bot to work!
1. Choose your
MOVIECHAINER PACKAGE
Everything starts with the MOVIECHAINER ESSENTIALS package. You then decide whether you need to plug-in the INVOICING & ACCOUNTING APP SYNC module, the ROYALTY MANAGEMENT module - or both !
2. Pick your Power-ups
Over the years, BACKUP SYSTEMS has developed more than 100 additional features and a-la-carte settings to cover the needs for all trades and businesses, including development, production, financing, sales, distribution, collecting, advisory and representation. Power-ups are sold by packages of 10.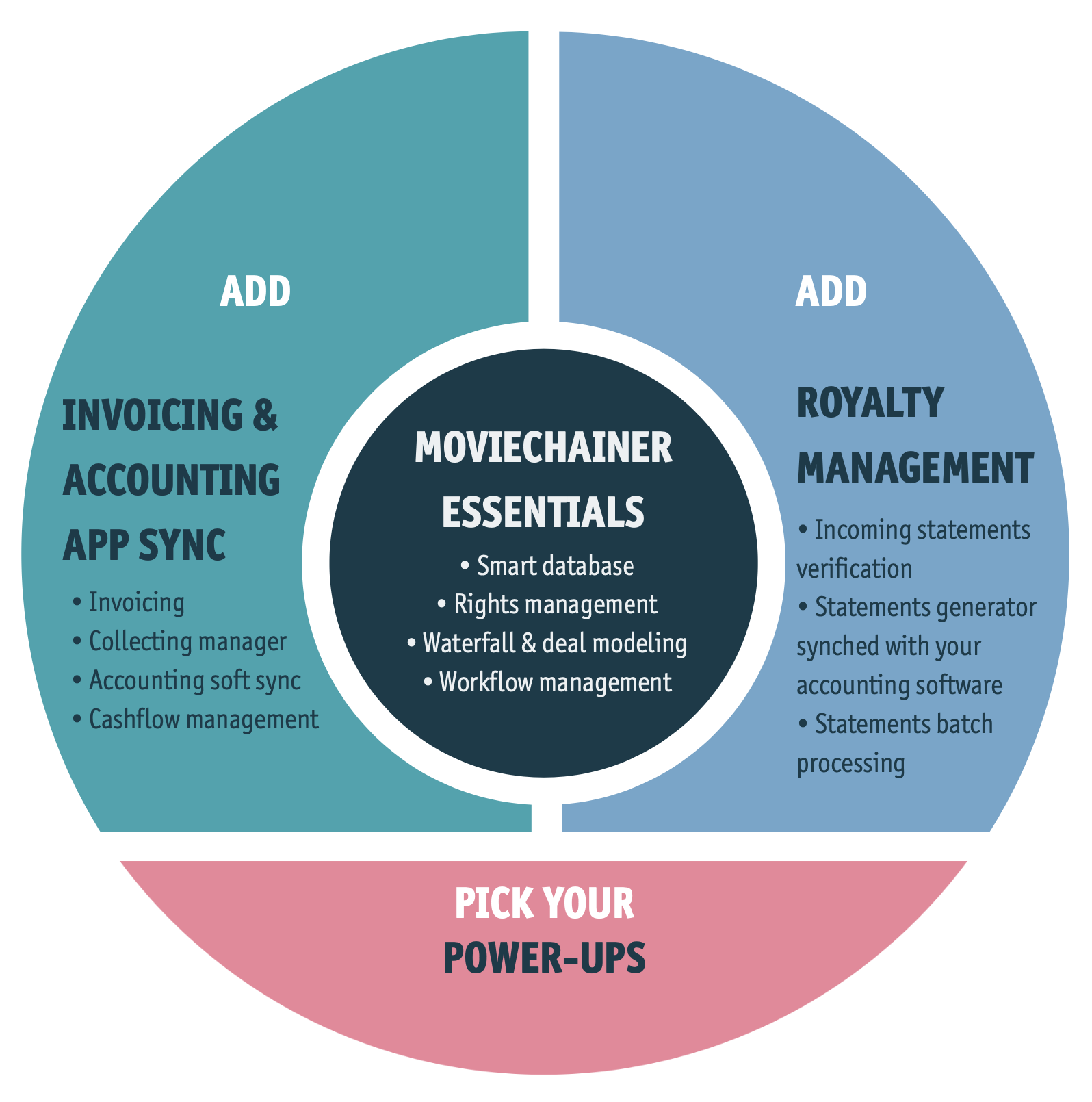 Function

:

Head of product

Favorite Movie

: Shine by Scott Hicks

Look-alike

: Agnes in Despicable me

Function

:

Head of partnerships

Favorite movie

:

Dune by Denis Villeneuve

Look-alike

:

Elastic Girl in The Incredibles

Function

:

Head of sales

Favorite Movie

: Forrest Gump by Robert Zemeckis

Look-alike

: Dev Patel in The Green Knight

Function

:

Chief technical officer

Favorite Movie

:

The night of the hunter by Charles Laughton

Look-alike

:

Jacques Mayol in The Big Blue
"As filmmakers ourselves, we felt compelled to create MovieChainer when we realized how much energy and resources we were allocating to run our film&TV financing back office with efficiency and integrity. Yet most operations were still running with .docs, spreadsheets and other documents which prevented us from scaling that part of our business while never being 100% reliable... we thought the content industry had better things to focus on" - Jean-Baptiste Babin, co-founder and CEO of MovieChainer.
MovieChainer is the brainchild of Backup Media - active since 2002 in film&TV development, production, finance and distribution, with a catalogue of 450+ titles - and IT engineer Philippe de Martelaere. The MovieChainer team of 20 is now regrouped under Backup Systems - and has outnumbered the film team within Backup Media Group.
MovieChainer has been crafted to cater the needs of all entertainment professionals, from both the studio and the indie worlds, as well as free-lancers and talents.
LATEST CONTRIBUTIONS FROM OUR COMMUNITY
We entertainment professionals have the privilege to dedicate ourselves to our passion. But this privilege and passion come with the responsibility to share and pass-on, to make sure our passion will grow further to the next generation. When's the last time we confronted our takes and viewpoints on how we operate, how we run the shop, how we can do better for us and our community ? When's the last time we challenged our own processes and practices ?
MovieChainer's Community Blog is a place where industry professionals are given a carte blanche to step back and share thoughts on their business, their job, the industry and its evolution, raise awareness on a specific issue, promote some practices - or just give some tips. A benevolent peer to peer community.
The Community Blog is dedicated to non-breaking news stemming from like-minded professionals who feel the urge to share for the benefit of fellow professionals and artists. Looking forward to reading from you !
The MovieChainer Team
Collection Account Management – Transparency & Dealmaking in the film industry
Insights from a small island: a take on the UK film industry
Head of Business & Legal Affairs at Recorded Picture Company | Hanway Films
Theatrical and/or Digital: releasing a film in Belgium & the Netherlands in the age of streamers
SECURITY
Your data secured and isolated on a world-leader server host with https protocol and double identification process.
Database backup & export available 24/7 : you are the sole owner of your data !
QUICK & EASY ONBOARDING
Migration into MovieChainer from any system (including .xls!)
On demand training program
Dynamic user documentation
QUALITY OF SERVICE
Dedicated expert contact


Cloud-based access from anywhere


Maintenance 24/7